SAILOR PANTS ^ DARK BLUE AMERICAN DENIM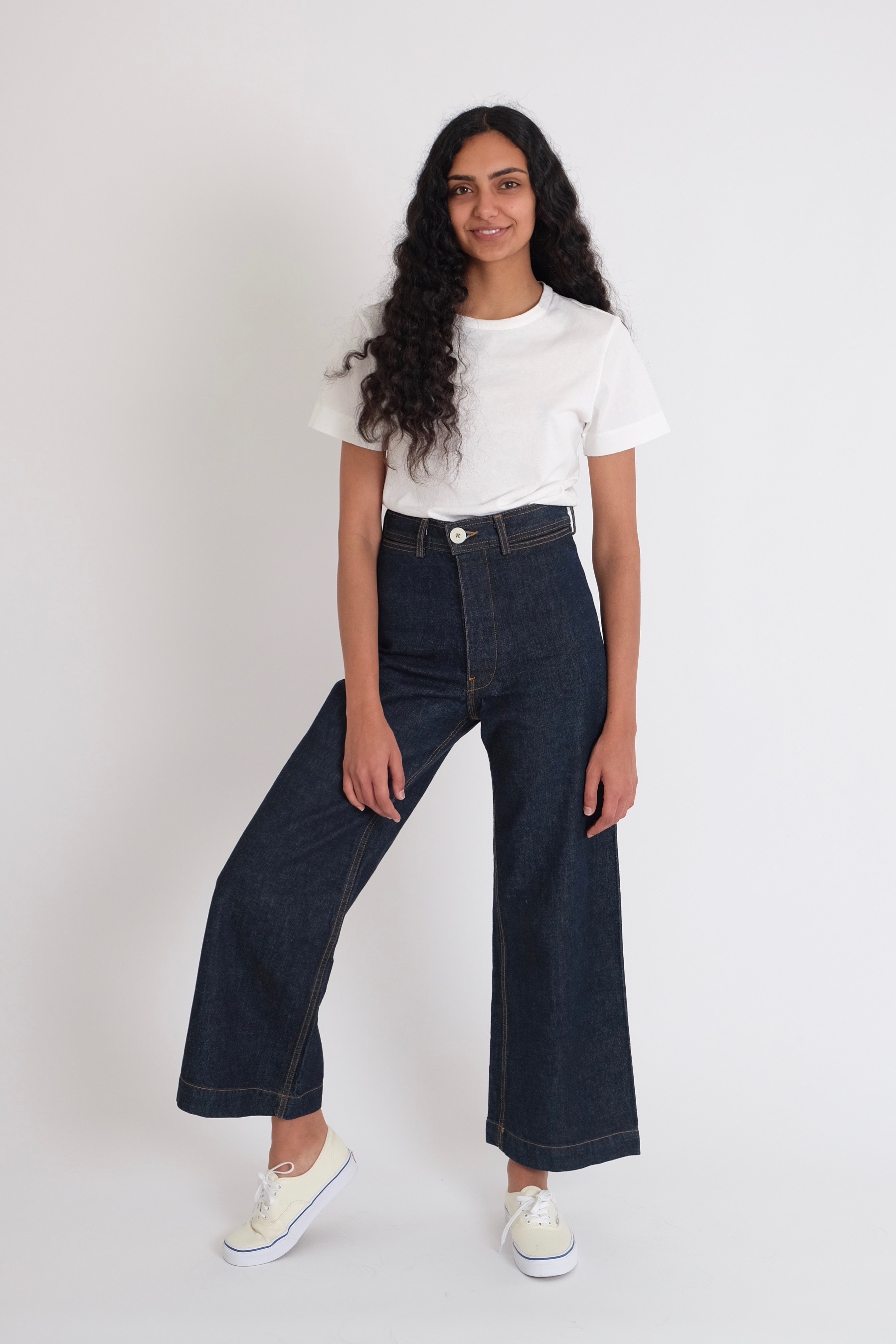 SAILOR PANTS ^ DARK BLUE AMERICAN DENIM
100% COTTON, AMERICAN 12.5 OZ DENIM. REGARDING FIT: THE DENIM SAILOR PANTS WILL GIVE A BIT MORE THAN OUR CANVAS SAILOR PANTS. OUR DENIM HAS LESS STRUCTURE THAN OUR HEAVY DUTY CANVAS, AND WILL BE A TOUCH MORE RELAXED. ORDER THE SAME SIZE AS YOUR CANVAS SAILOR PANTS. THE DENIM VERSION IS 1" LONGER TO HONOR THE GROOVY 70'S JEANS MY MOTHER WORE. REGARDING FIT: THESE PANTS RUN SLIM IN THE WAIST AND HIPS. TO FIND YOUR SIZE, TAKE A MEASURING TAPE, AND MEASURE THE SMALLEST PART OF YOUR VERY HIGH WAIST, AND THE WIDEST PART OF YOUR HIP. NOTE: SHAHANA IS 5'8" TALL, AND WEARS SIZE 4. YOU CAN CROP THE PANTS OR WEAR THEM LONG.
SIZE 0 - 25.5" AT HIGH WAIST, 36" AT HIP SIZE 2 - 26.5" AT HIGH WAIST, 37" AT HIP SIZE 4 - 27.5" AT HIGH WAIST, 38" AT HIP SIZE 6 - 28.5" AT HIGH WAIST, 39" AT HIP SIZE 8 - 29.5" AT HIGH WAIST, 40" AT HIP SIZE 10 - 30.5" AT HIGH WAIST, 41" AT HIP SIZE 12 - 32.5" AT HIGH WAIST, 43" AT HIP
SIZE 14 - 34.5" AT HIGH WAIST, 46" AT HIP
SIZE 16 - 36.5" AT HIGH WAIST, 48" AT HIP
NOTE: AS PART OF OUR COMMITMENT TO THE ENVIRONMENT THESE PANTS ARE WASHED ONLY ONE TIME. NATURAL VARIATIONS IN COLOR MAY OCCUR, AND ARE CELEBRATED.